Garage door openers and remotes are two of the most important components of your garage door system. Together with your actual garage door, the garage door opener (the motor that lifts and lowers your garage door) and your garage door remote (your control system to command the lifting and lowering of your garage door) work hand in hand to ensure the entire process is executed safely and smoothly, time and again.
Access Garage Doors in Vancouver, BC is proud to be a licensed supplier and installer of LiftMaster Garage Door components, offering the highest quality products to ensure a reliable garage door system for you, the customer. Below you will find information on multiple garage door openers and accessories to ensure your garage door system is running at peak performance.

LiftMaster® belt drive garage door openers are the smoothest, quietest, most reliable systems you can buy. Our heavy-duty belt drive is as tough as a steel-belted tire and is equipped with our patented Motor Vibration Isolation System (MVIS®) that eliminates powerhead vibration for smooth, quiet operation year after year.
Model 8355 – ½ HP Belt Drive Garage Door Opener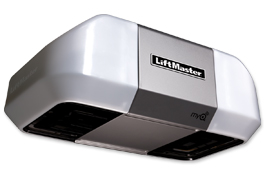 The 8355 model comes with MyQ® technology which enables you to securely monitor and control your garage door opener and houselights with your smart phone, tablet or computer.  There is also a MyQ mobile app which is free to download and requires no annual activation fee.
Model 8550 - Elite Series® DC Battery Backup Belt Drive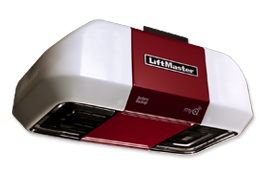 Take convenience and safety to a whole new level with the LiftMaster® 8550. The reliable, integrated Battery Backup System guarantees access in and out of your garage, even when the power is out. The safety and security features will continue to operate as well, ensuring your family is protected in a power failure. The opener is also equipped with built-in MyQ™ technology, enabling you to close your garage door or turn lights on or off using a smartphone or computer – from anywhere in the world. And because it features soft start and slow stop to reduce noise when it operates, it is perfect for homes with a room above the garage.
Model 8557 Elite Series® ¾ HP AC Belt Drive Garage Door Opener
Model 8500 - Wall Mount Design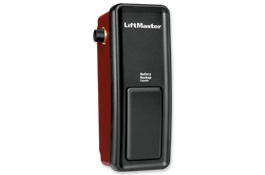 The wall mount design of the 8500 design frees the garage ceiling of hanging operators and rails and opens up the space for additional storage. It eliminates sound and vibration through the ceiling. This model also comes with the MyQ® technology which enables you to securely monitor and control your garage door opener and houselights with your smart phone, tablet or computer.
Model 8165 1/2 HP AC Chain Drive Garage Door Opener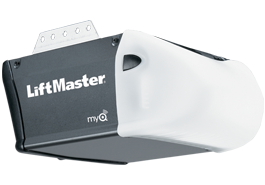 Its durable 1/2 HP motor combined with an industrial-strength chain drive provide smooth, steady performance year after year. The Smart Garage Door Opener® lets you electronically program security codes from the Multi-Function Control Panel.
Model 828LM - LiftMaster Internet Gateway™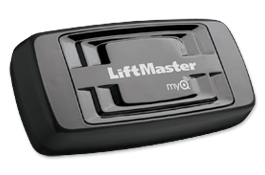 This revolutionary new accessory features built-in MyQ™ technology that connects to the Internet and allows you to monitor and operate your garage door opener, or turn on or off lights in or around your home, from anywhere in the world by using your smartphone or computer. It utilizes a two-way communication system that puts freedom and control in your hands.
Home Link Repeater
Model 877LM - LiftMaster™ Wireless Keyless Entry
This product mounts to your door jamb using two screws which are included in your purchase, and operates on batteries which are also included (you don't have to wire anything!). The keypad is weatherproof and comes with a sliding protective cover. Open or close your garage door without using a remote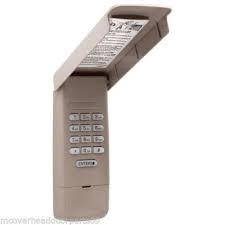 control or key. The LiftMaster® Wireless Keyless Entry System can open the door using a private 4-digit code you program directly into the unit. You can also program it with temporary access codes for visitors or delivery and service personnel so they can gain access to your garage without having to give them your personal code.
Model 888 LM – Remote Control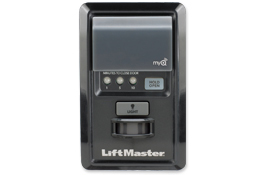 Upgrade for older garage door system with the MyQ technology when paired with the 828LM LiftMaster® Internet Gateway, sold separately). Now, any LiftMaster® garage door opener manufactured since 1998 can be controlled with your smart phone, tablet or computer thanks to the new 888LM MyQ® Control Panel.
Model 890 MAX – Keychain Remote Control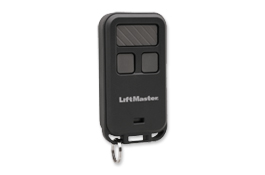 The LiftMaster® 3-Button Mini Remote Control is small enough to fit right on your keychain, or in your purse or pocket, so you'll always have it when you come home. It can control up to three garage door openers or gate operators, or MyQ® enabled light accessories.
Universal Remote Control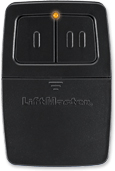 Model 893LM 3-Button Remote Control
3-Button Remote Control