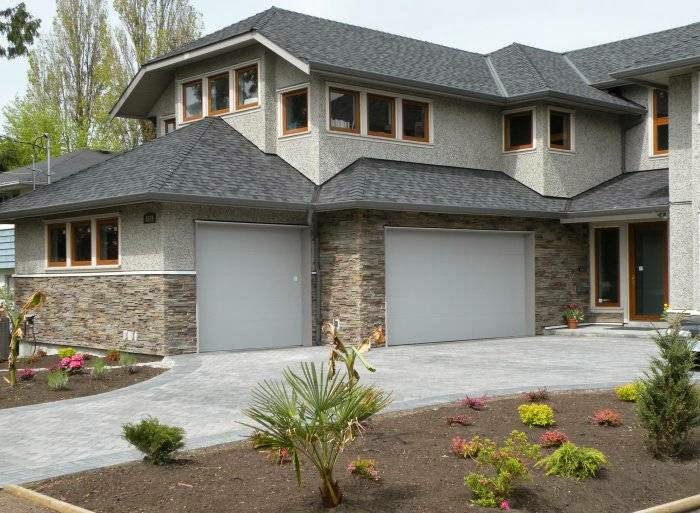 Your Home's Curb Appeal
A new residential garage door can drastically improve your home's curb appeal and increase your home's value in a mere 4 to 6 hours. Simply defined, Curb Appeal is the first impression your house makes from the outside. It is a term that Real Estate Agents use frequently when helping homeowners who are about to sell their home. Because many house-hunters make up their minds about a house before they even enter it, realtors emphasize the importance of a home's exterior appearance. A Garage Door is an important Home Improvement project as it is typically the first thing people notice when they pull into your driveway or pass your house. A new Garage Door will add style, energy efficiency and security to your home. Just as important, a new garage door will ensure your curb appeal is maximized, adding instant value to your home.
If you have plans to sell your home in the near future, or even if you plan to remain in your home, you may want to change the message your home is sending, and improving its Curb Appeal is a great place to start. A recent online survey by the IDA revealed that 71% of homeowners who recently replaced their Garage Door believe it definitely increased the value of their home. Given the price of homes in the Greater Vancouver Area this translates into an outstanding return on your investment. Especially in Vancouver where we see many neighbourhoods with very similar styles of homes side by side, helping your home stand out from the pack with a new and unique garage door is a surefire way to get the right attention. A well chosen Garage Door can give any home a spectacular makeover.
On most homes the Garage Door takes up 30% of the front façade of the home and is the most noticeable architectural design element of the home. Many houses are designed with Garages that are visible from the street. If the Garage holds two or more cars, the Garage door is a dominant feature. Leaving 30% of the initial appearance of your home looking plain and ordinary is not doing you any favours. With a small investment on the right garage door, you can net huge returns.
Most architects, builders or designers would advise that you begin your choice of Garage Doors by considering the style of your home. The new door should complement the architecture of the house, not confuse it. For example, a Carriage-House Style Garage Door might look out of place on a Contemporary home. Determine if you want your new door to be a major design feature or if you want a door that will seamlessly blend in with other exterior details. Access Garage Doors can assist you in choosing a Garage Door that will enhance your home.
If you have not been in the market for a Garage Door in a while, you will be impressed with the hundreds of unique design options available to you. Fitted with all the latest accessories, from gorgeous glass window designs and wrought iron decorative hardware it is not difficult to customize the Curb Appeal of your home. The color of your Garage Door should complement the overall color of your home including the window trim. Some garage door styles are available in a limited range of colours while other manufacturers offer custom colours at no additional cost. Even the window styles on new Garage Doors have been redesigned to match the window designs offered by high end window manufacturers.
Carriage House-Style Garage Doors are the latest trend. These doors may be designed in Wood or Steel and come in three sections. They typically give the high end appearance of Garage Doors of yesteryear, without the cost, plus the functionality of a high tech door.
Garage Doors come in Wood, Steel, Aluminum and Glass in Anodized Aluminum Frames. Steel doors are usually lower in price and maintenance. Wood doors are available in all species of wood and can be painted or stained. Glass Doors give the appearance of an attractive wall of windows and are available in clear, frosted, tinted or obscured glass. The frames also come in many different colours.
When it comes to Garage Doors today you are only limited by your imagination. To see how different your home might look please go to the Before & After pictures on our website. As would be expected there are a wide range of prices to fit any budget. You will be surprised at how reasonable the prices are on some of the newest styles of garage doors.
A new Garage Door, quickly and correctly installed by a professional will differentiate your home from the others and add value and Curb Appeal to your home. This is a project that should only be done by a professional Garage Door Company.
Access Garage Doors offers Free Quotes on all installations.
The good news is that installation of a new Garage Door and Garage Door Opener usually only takes 4 to 6 hours to complete. All the homeowner is responsible for is to clean out their garage and to ensure that their garage is free of clutter, in order for the installers have sufficient room to complete the installation.
Access Garage Doors always takes special care to recycle your old Garage Door and Opener.